Opes Italia is excited to introduce our 2019 candidates! These participants are highly qualified students, teachers, coaches, etc., brought on to increase the number of disabled in sports.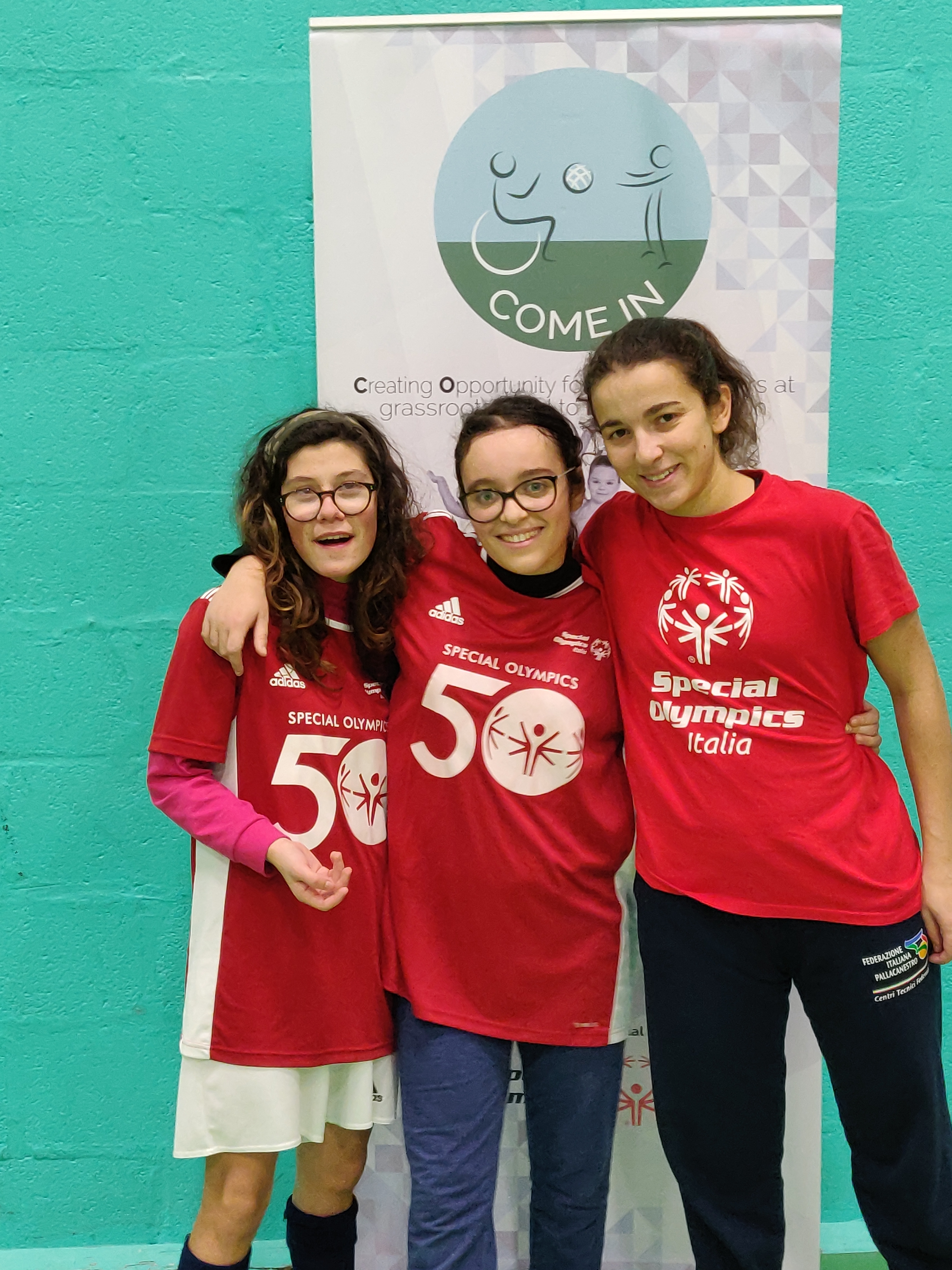 The project Come In- Creating Opportunity for Sport Members at grassroots level to Enable Inclusion- has been designed with the main idea to increase participation of young people with disabilities in sports.
This idea is mainly based on the recognition of sports as a beneficial tool for health but also as a strong instrument for promoting social inclusion. During the last years, participation of young people with disability in sports has also become a crucial aspect recognized by the European institution in numerous documents which stress the importance of sports for all. Although many projects have been proposed to achieve this aim, numerous surveys still demonstrate that there is a large gap between the participation of disabled young people compared to able-bodied people in the sport field.
Against this background, partners organisations wants to support coaches, educators, volunteers, youth workers and leaders active in sport field to create more inclusive sport opportunities with the aim to increase participation of young people with disabilities in sports.
Adrian Juston
Adrian Juston is 23 years old out and is living in France. After a bachelor degree in sport management, Adrian is currently on his MBA pursuing sport management in Paris-Saclay University. Adrian has always been concerned by helping young people with disabilities. Adrian spent two years at university helping young people suffering from autism. During two years working by their sides, he learnt to help in the right way, specially with their acceptance of society through sport. Now, by all his management skills, Adrian has learnt more ways than one to help these people, by sport and without sport.
Alberto Nota
Alberto Nota, born in 1984, studied Judo since he was six. He works with kids with disabilities, as an educator, in kindergartens, primary and secondary schools. He also works in a care center for disabled adults, introducing them to physical exercises. His first experience with disabilities and sports was in his dojo, as a teacher's aide, helping some disabled children during the lessons. During his career as a judoka he has followed several courses about disabilities and sports. In the past six years he has developed, with an Aikido and Qi Gong teacher, a project, called "Educadendo", (a composed word formed by "educare"/educate and "cadendo"/falling) based on the practice of martial arts. In this activity teachers use propedeutica exercises and games to improve some basic abilities, like balance, coordination and spatiality. In the past three years, several kids with different disabilities attended those lessons and one of the most important achievement is the total inclusion of those kids into the group.
Carlo James Maria D'Amico
Carlo James Maria D'Amico was born in New York, but today, resides in Rome where he grew up. Since a young age, Carlo has been focused on sports and human rights. Carlo has a long and distinguished pedigree in sports and education. First, Carlo played basketball for a number of years and finished his career as a coach. Carlo went on to study political science and international relationships, eventually earning his masters in international protection of human rights. Carlo works for Special Olympics Italy that, as an NGO, promotes sports for people with intellectual disabilities. During a ten year tenure for the Special Olympics, Carlo has been in charge of marketing and fundraising. This experience has given Carlo the opportunity to train people with intellectual disabilities in basketball, athletics and rowing. Come In project is excited to have Carlo and looking forward to his experience, passion and energy for the cause.
Chiara Pepe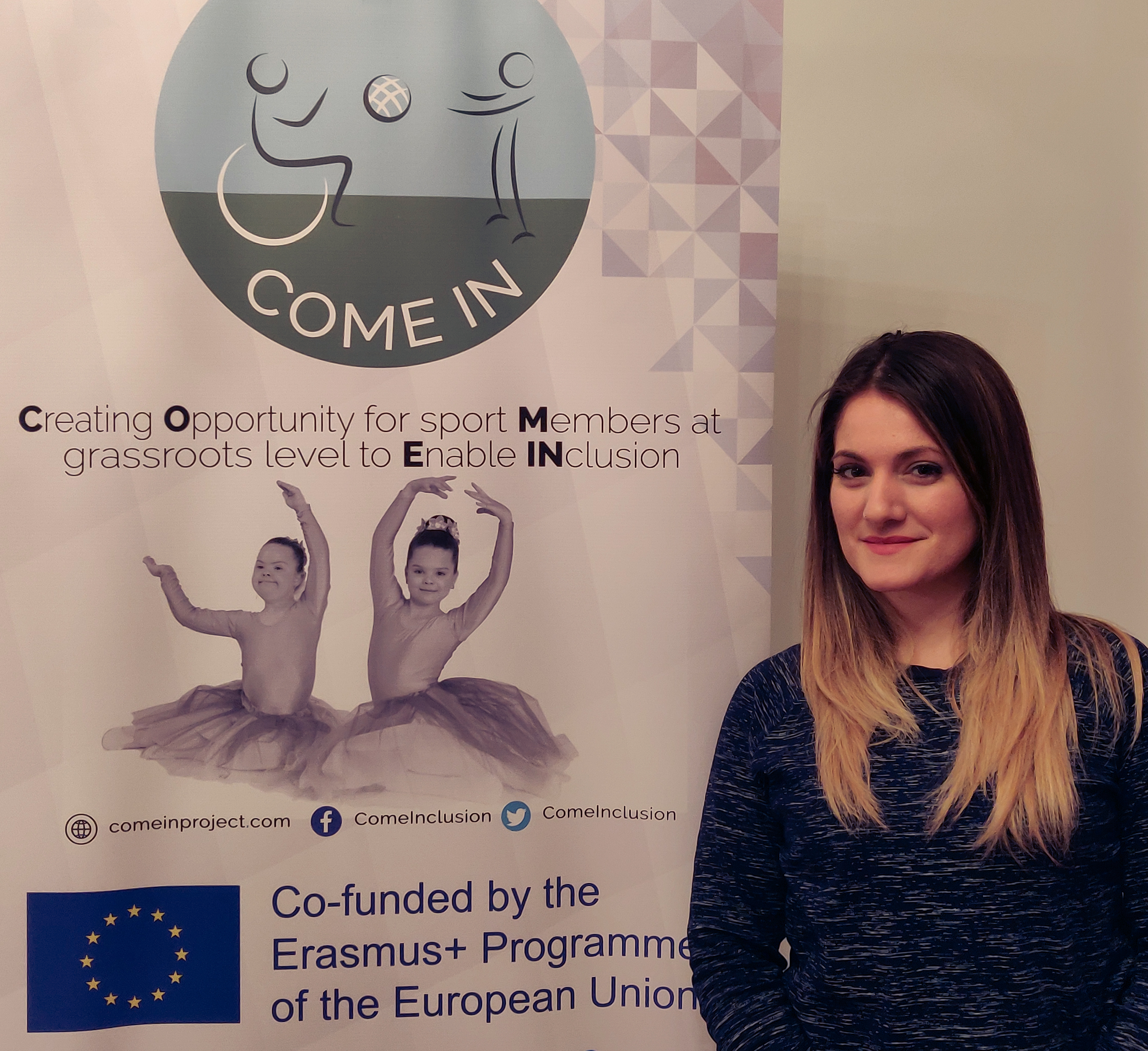 Chiara Pepe is a physical education teacher in secondary school and a rhythmic gymnastic coach. Chiara also has experience teaching special education. Chiara holds a bachelor's degree in exercise and sport science while eventually achieving her masters degree in prevented and adapted physical activities with full marks. Chiara has lived by the quote, "Don't let anyone- even if it is your own body- tell you that something is impossible." Chiara hopes to share and teach this inspiration to the athletes participating. Chiara's greatest satisfaction comes from watching disadvantaged children succeed. Chiara talking about her experience with disabled children said, "most of the time, the ones (disabled children) who show the greatest commitment; and the ones who can really teach more lucky people -like me- not to give up."
David Bell
David Bell has taught physical education for 13 years at South Wirral High School located in the United Kingdom. David's passion is to empower students to develop their mental, physical and social health and wellbeing through a programme that inspires. With David's help, South Wirral High School has championed inclusive sport by coaching many students with physical and/or intellectual disabilities to enjoy success in sports teams, curriculum lessons and sports qualifications. Come In project is happy to bring David to the cause and looks forward to using his experience to bring programmes of inclusive sport to a widespread audience.
Deimos Michele Palmero
Deimos Michele Palmero is 21 years old. Deimos studies law at Campus Luigi Einaudi in Turin where he's resided since 1997. David has been practicing martial arts since he was 4 years old. David has been practicing karate for 8 years before starting studying krav maga and MMA. Eventually becoming an instructor at the age of 18 years old. David is passionate about teamwork and balance because he believes everyone is capable for their own competence to build a strong and professional team. This provides a complete toolset for every need and challenge in life.
Emma Short
Emma Short is a passionate sports coach with experience in different age backgrounds, different organizations, local netball clubs and various primary schools. Emma has been involved in different groups over the past 5 years and wants to continue learning and developing her skills as a coach. Emma believes she wants to reach out into the disadvantaged community to meet the needs of the various disabilities and those who simply cannot afford the cost of club sport. Emma has a degree in sport and health science, which furthered her understanding of social groups and barriers facing participation in sport. Alongside this, Emma has had the privilege to deliver sports sessions for a range of disabilities and underprivileged areas within Cornwall.
Francesca Marini
Francesca Marini is 25 years old. Francesca studies math and works with educating children. She has been paying basketball since the age of 3. Francesca Marini is extremely grateful to be a coach in the Special Olympics.
Francesca Elda Marini
Francesca Elda Marini is 18 years old. Francesca comes from Italy and has been playing basketball for 5 years. Francesca is still playing basketball and is looking forward to sharing her experience with her athletes.
Guerin Florence
Guerin Florence is from France where she is studying STAPS. She studies in Clermont Ferrand at APAS. Guerin participated in this project because she would like to work in a society that gathers people in situations of handicap and includes them in sports. Guerin is looking forward to learning from her athletes just as they will learn from her.
Ivana Di Pardo

Ivana is 16 years old and lives in Italy where she is playing basketball. Ivana has been playing basketball for 3 years and has joined the Special Olympics school team. Come In Project is happy to have Ivana and looking forward to the experience she brings.
James Eddy
James Eddy is looking to put his best foot forward as a Come In Project 2019 participant!
Joe Ross
James Eddy is looking to put his best foot forward as a Come In Project 2019 participant!
Joel Johnson
Joel has always struggled to participate in sport due to having autism and feeling very self-conscious in a mainstream school setting. Since joining the Unified Sports Club as a participant last year, his confidence blossomed to the point where he was excited to become a Play Unified Sports Leader and help to encourage other students. Joel recognises that Unified Sport is a fantastic way to overcome the challenges he faces with his autism and he delivered an inspirational speech at the WWE Be a Star rally.
Line Bonjean
Line Bonjean is 19 years old and studies STAPS at the UCA in Clermont-Ferrand. Line chose the course APAS which stands for Adapted Physical Activities and Health. Since a child, Line has wanted to help people with disabilities and thinks that sport is the best way to improve health and mental capabilities. For Line, Come In is an opportunity to learn new things about the physical handicap and to learn how it's possible to bring a person with disabilities to practice adapted physical activity.
Maria Victoria Del Casale

Maria Victoria Del Casale was born in Buenos Aires in 1965 and lives in Vasto-Abruzzo, Italy. Maria works as a Physical Education teacher at I.C. Rossetti in Vasto. Over the years, she has worked with several sports clubs in various sports including swimming, basketball and handball. Maria was involved in various projects related to the sporting inclusion. Maria worked in some projects for the prevention of youth problems and for the working employment of people with intellectual disabilities. As well as teaching, Maria is referent in school of the Special Olympics; School Project and the territorial Scholastic Network established within the project.
Mérou Emmanuelle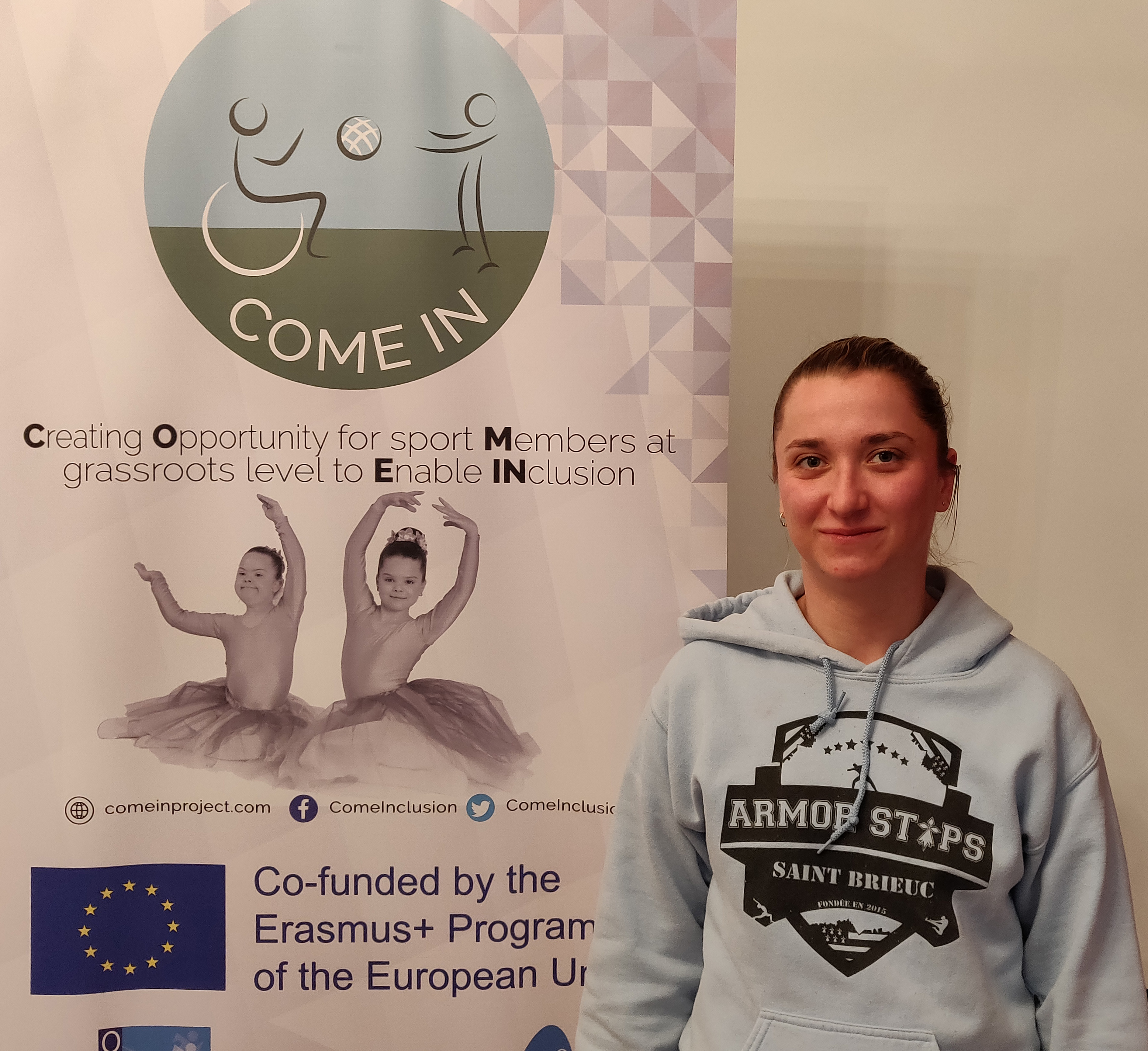 Emmanuelle Mérou is 21 years old and is studying STAPS (Sport Sciences) in Saint-Brieuc, located in Brittany, France. Emmanuelle decided to participate in Come In because she saw that sports brings people together and gives them the power of activity. Mérou believes it's important to develop sport and its values to bring people together and educate them.
Olivia Ellison-Burkhill
Olivia is one of the founding members of the Unified Sports Club at South Wirral and has been a fantastic ambassador for the past 15 months. Olivia has delivered the Play Unified message to school students across Wirral and Merseyside, executive members of the Gaelic Athletic Association, at the European Congress of Adapted Physical Activity and at the WWE Be a Star Rally. Olivia is passionate about Play Unified and delivering inclusive sport in school, where she also coaches girls rugby. As Olivia embarks on her journey towards University study, she is keen to continue to make an impact with introducing Play Unified initiatives and creating lasting legacies.
Ryan Veitch
Ryan Veitch is a sports coach who coaches mixed ages and multiple abilities of people in Cornwall. Ryan has experience with a few companies including Acorn Multisports. At Acorn Multisports, they deliver sports and games to nurseries, primary school, as well as play games/activities with elderly in care homes. For the Dracena Centre, Ryan helps to deliver sessions to primary schools and helps with disability sports games. Ryan takes pride in his job as it gives him great satisfaction that he can help an individual achieve goals at whatever ability they possess.
Will Turner-Otero
Through college and training providers, Will Turner-Otero has gained qualifications in coaching and delivering sports. Will has a passion for sport and wants to see sport made accessible to all, regardless of ability. Will wants to gain more skills and knowledge to help him improve his delivery ability and the quality of sessions he participates in.